Mayor Christian Ude has the high prestige in Germany, he is the only one in Germany who is the fourth consecutive term mayor for 17 years! He has worked as a reporter, editor, author and lawyer. At 70s of last century, he founded the ¨Munich Post。イ and ¨City Pictorial。イ, also he used to be the chief editor of ¨Sunday Weekly。イ. In 1980s, he became a free lawyer and author. Then in 1990, he participated the Munich mayor election and was elected vice mayor of Munich. In 1993, he was overwhelmingly elected the Mayor of Munich! After that he is been the mayor consecutively fourth term till now, and his vote increases every year. He is the reigning mayor who has the longest prefecture in Germany, and he is also the president of the German Association of Mayors.
Mr. and Mrs. Ude have a wide range of social resources, also have the good relationships with many German big companies. They also have deep feelings for China, already visit China several times. After visited several cities, they met the mayor of Beijing: Qishan Wang, secretary of the Tianjin Municipal Committee of Communist Party of China (CPC): Lichang Zhang, Mayor of Tianjin: Xianglong Dai, Mayor of Shanghai: Han Zheng, Mayor of Hangzhou: Caiqi, etc, discussed about the city」セs developments and co-operation. During Beijing Olympics, Mr.Ude attended the opening ceremony on behalf of the Government of Germany ( German Chancellor did not attend the ceremony), also during that time, Mr. Ude actively promoted the Chinese Olympic in Germany.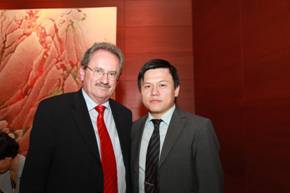 Photo of Mayor Ude and our company」セs general manager Mr. Alex Hsieh before dinner
Photo of Mr. and Mrs. Ude with our GM Mr. Alex Hsieh, VGM Miss. Zhang Ming after dinner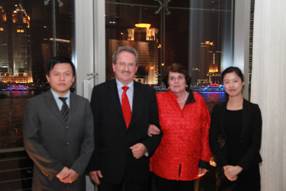 Mr. and Mrs. Ude enjoyed the night view of the Huangpu River and took a picture with our GM Mr. Alex Hsieh, VGM Miss. Zhang Ming after dinner.
Before left, Mr. and Mrs. Ude gave their autograph book to our GM Mr. Alex Hsieh.
設
設
設