Since 2006 researched, designed, produced and processed, marketing management and comprehensive cooperation with the leading technology of the adhesives materials manufacturers and the international famous label production enterprise. Now has becomed one of the most competitive special adhesive sticker material production manufacturers.
Passed the ISO 9001:2000 quality system certification at 2007, extended a new factory and established thorough product analysis and testing center in Kunshan China. In the sama year established a label bar coded production center to provide high quality adhesive sticker label and professional service. In the beginning of 2012 we passed the ISO 14001:2004 environmental system authentication system.
Toplabel has accumulated rich experience in many industries of special and professional label application experience. Has been the leading of special type label, especially in tire industry. ?
Because we got:
A deep understanding of application requirements in special label application industry
Provide rapid solution for client
Strong r&d team, provide products customized
Specialize label production, treating could meet the requirements of delivery
Quality and structure
The bar code contrast ratio is distinguished by black and white. Which is required to ensure the temperature of vulcanization could endure 200 óJ, and even higher in short time vulcanization.
The thickness of the material shall be uniform, the error is not allowed to outnumber 1 micro meter, in order to make it possible to ensure the material will not be deformed under high temperature, high pressure and glue flow, the thickness of the material shall be controlled around 125 micro meter.
The material shall have clear imaging techniques, which could ensure some related words and pictures can be printed on with thermal transfer resin ribbon, and UV high temperature ink can be used for printing.
The glue shall be two-tiers to ensure the effect after vulcanization.One tier is conglutinated firmly with green tire before vulcanization , and the other tier reacts with the rubber of tire during vulcanization and then conglutinated together. These two kinds of glue react completely during vulcanization and finally adhered as one.
The first floor of the label is produced by the American special technology for the protective cover. Ensure the label keep non-discolouring and undistorted after the 200óJ vulcanization.

hardware configuration: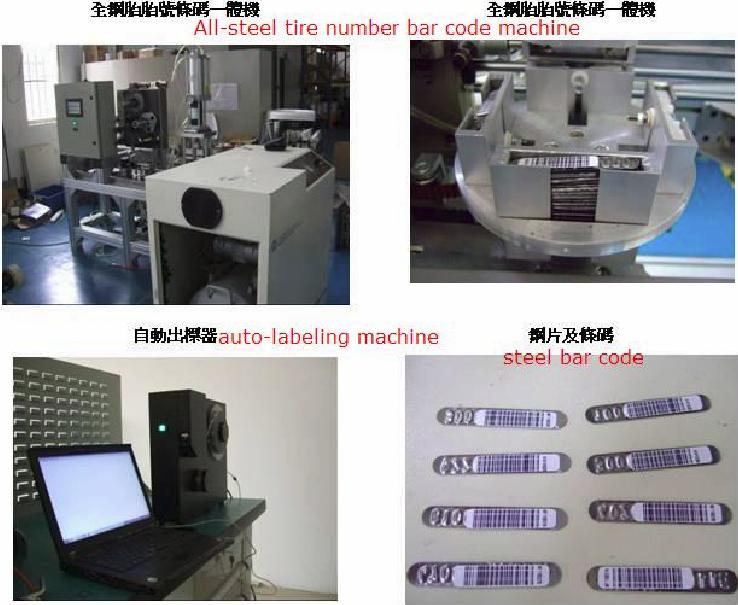 matching software system
According to customers' specific needs for customized development.