The Ruggedized TireScan system is a unique tool used throughout the tire industry to capture the tire footprint pressure patterns of passenger, truck, off road, agricultural, and aircraft tires. Tire footprints can be captured statically or dynamically with equal ease. Ruggedized TireScan displays high resolution, multi-colored, images of the tire contact pressure pattern in real time. The system¡¦s very intuitive, application specific graphing and image analysis software enables quantitative and qualitative analysis of these images. For example, the system almost instantly measures a tire¡¦s contact area, perimeter area, tread length and width, and cross sectional pressure profile. The system can then easily compare the characteristics of various tires to each other or to compare the characteristics of one tire to itself under different load and inflation conditions. This information can help designers and manufacturers analyze various tire compounds and tread designs, conduct quality control measurements, perform competitive benchmarking, and assess vehicle suspension effects. The system is turn-key. Its USB connection makes it extremely portable. The Ruggedized TireScan system can be used with equal ease in the lab, the factory, or in the field. Sensors can be placed directly on a roadway, a garage floor, mounted on a tire-rolling machine, or secured to a moving plank test machine. Sensors can even be buried underground and simply driven over to take a measurement within the soil.
Key Features:
¡E Ruggedized Construction- metal scanning electronics enclosures, sensor mounting platform, and drive plates
¡E All scanning electronics conveniently located on one side of the sensor
¡E Fast, accurate, and repeatable measurements
¡E Dynamic recording and playback
¡E Graphing and data analysis capabilities
¡E Real-time viewing
¡E Durable & reusable sensors
¡E Thin & incompressible
¡E Suitable for lab and field testing
¡E Sensors with more than 82,000 sensing elements
¡E Sensel density up to 96.9 sensels per square centimeter
¡E Sensor scan rates of up to 107 frames per second
¡E Easy to set-up & portable
¡E USB connection
¡E Integrated external triggering & synchronization
¡E Tested & proven by dozens of tire manufacturers worldwide

Appl ications:
¡E Tire footprint pressure pattern evaluation
¡E Tread design
¡E Manufacturing quality assurance
¡E Vehicle suspension analysis
¡E Competitive benchmarking
Scanning Electronics
Ruggedized TireScan system includes metal scanning electronics enclosures, a sensor mounting platform, and leading and trailing drive plates. The scanning electronics enclosures are designed to withstand harsh testing environments and provide protection from dirt and debris. The enclosures are equipped with sensor alignment pins, ensuring a secure sensor-to-scanning electronics connection. The system also includes a Hub that provides external triggering and synchronization. Simply connect a BNC cable to the VersaTek Hub and your device, and set up the External Trigger Synch software feature.
SensorEqui l ibration
Ruggedized TireScan system includes a PB100T sensor equilibration device. The sensor is inserted between a flat backing plate and air filled bladder that apply a uniform pressure to the active area of the sensor while still mounted to the base plate. Then Tekscan software compensates for variation in the output of individual sensing elements.
Key Software Features
¡E Measure force, pressure distribution, and contact area - dynamically
¡E Record and Play-back pressure ¡§movies¡¨
¡E Display real-time and recorded data as 2-D and 3-D pressure images and graphs
¡E Plot pressure, area, and force data over time and distance
¡E Windows compatible copy and paste of pressure images or data values into other applications
¡E File output in ASCII format
¡E Save files as AVI movies
¡E Ability to isolate and analyze specific areas ¡E View and compare multiple tests ¡E And much, much more!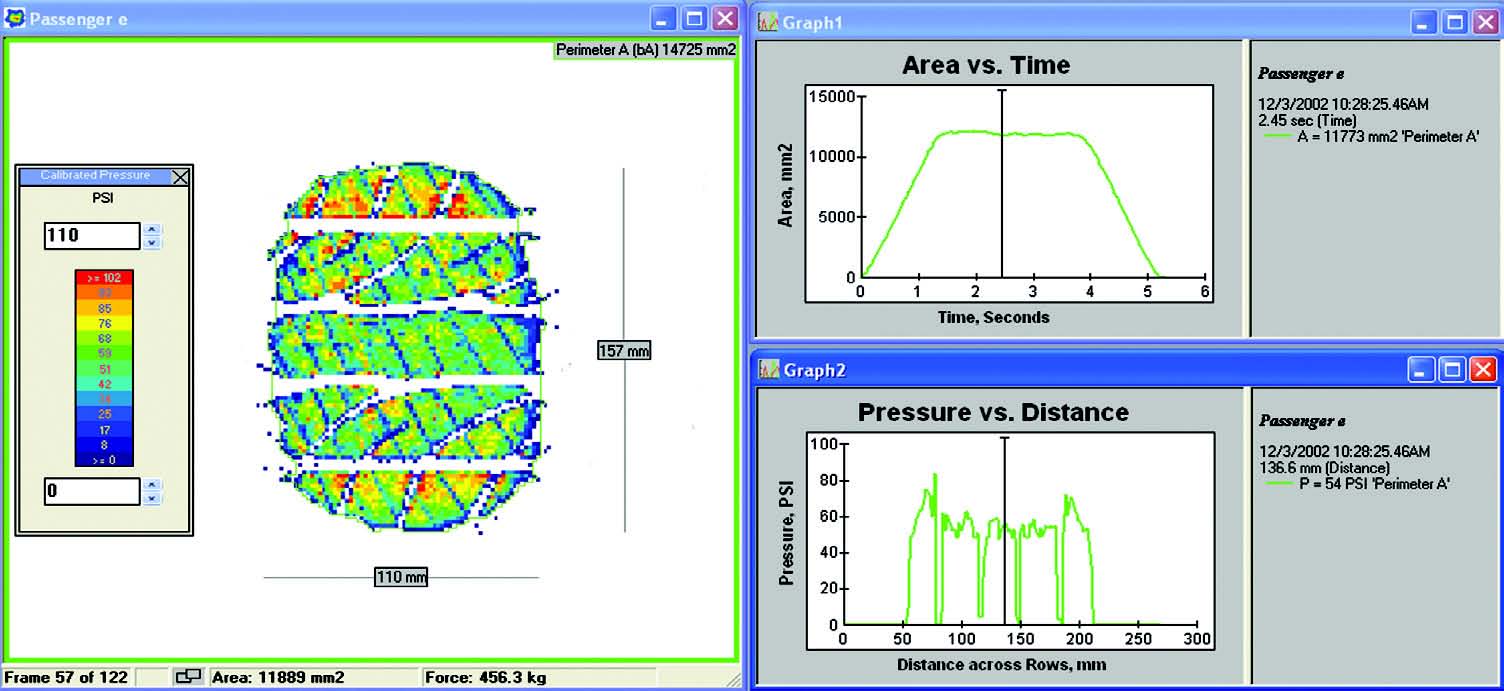 Above: 2-D pressure distribution image of a tire footprint showing Perimeter Area, Contact Area, and Cross Sectional Pressure Profile of the tire. It also shows the Length and Width of the tire footprint.
Related Products& Options
In addition to measuring tire footprint pressure patterns, TireScan also allows the option of measuring tire bead pressure profiles. Please refer to the Sensor Catalog to view tire bead sensors.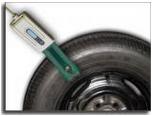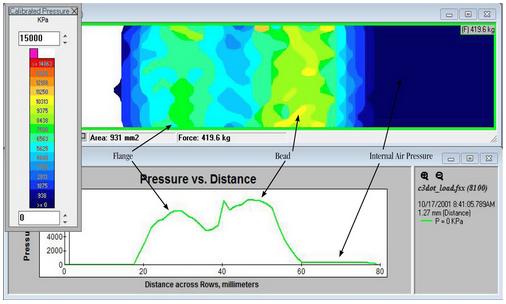 2-D output and plot of the tire bead contact pressure profile. The pressure profile is plotted from outside the tire, past the flange and bead, to inside the tire.