Steel Cord Cutting Lines-for Body Ply & Breaker Belt Production
MAIN FEATURES
| | |
| --- | --- |
| Automatic splicing of old and new material at let-off | Pull type feeding with accuracy for wide breaker strips |
| Increased lifetime of cutting blades up to 2 000 000 cuts | Splicing capacity up to 21 splices/ min |
| Open splice detection system after splicing device | Wind up station with automatic material change-over |

BASIC COMPOSITION

Let off station
Dual coil type - 1 working let off position, 1 auxiliary
¡± New two-stage centering system of input material
¡± New design of dancing roll
¡± Input material coil pre-centering range ¡Ó100 mm
¡± Automatic splicing of old and new material
¡± Edge trimming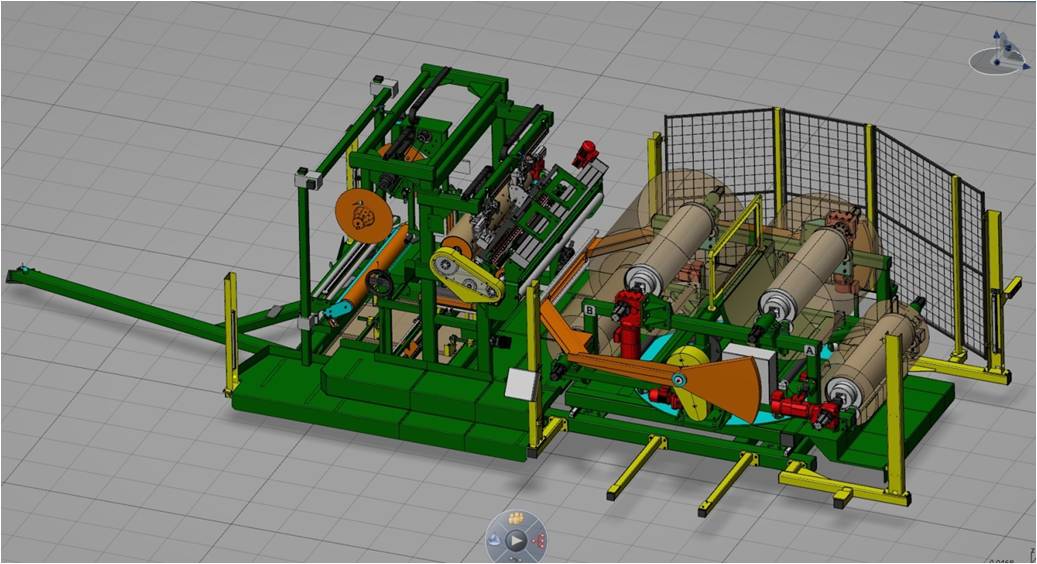 Feeding device
FEEDING UNIT
¡± Rigid frame for increased lifetime => elimination of dynamic forces during mivement
¡± Covered ball screws for increased lifetime of linear modules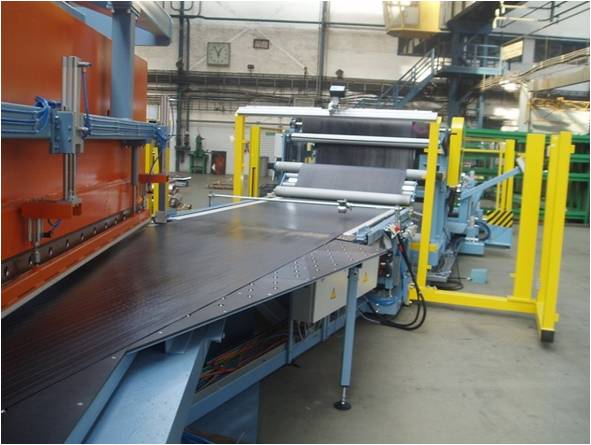 Cutting device
CUTTING UNIT (GUILLOTINE TYPE)
¡± Replacement of pneumatic conveyer drive by electromechanical drive to synchronize motion of conveyer and upper blade holder
¡± Elimination of transverse conveyer movement
¡± Slips fixing by means of magnets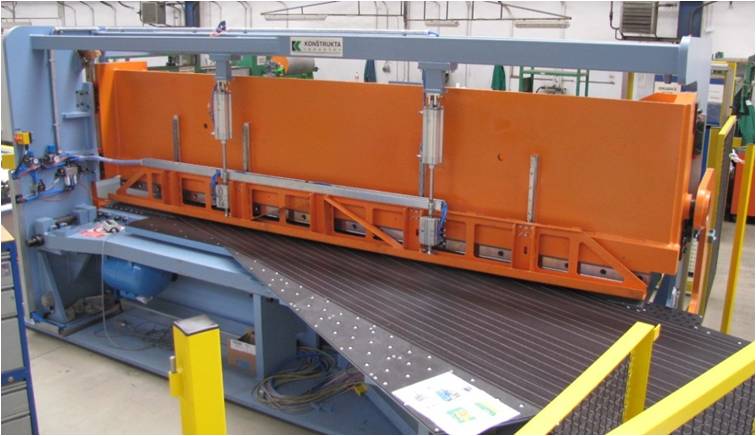 Automatic splicing device
AUTOMATIC SPLICING UNIT
¡± New design of splicing head with separating bar
¡± Unified design elements
¡± Open splice detection system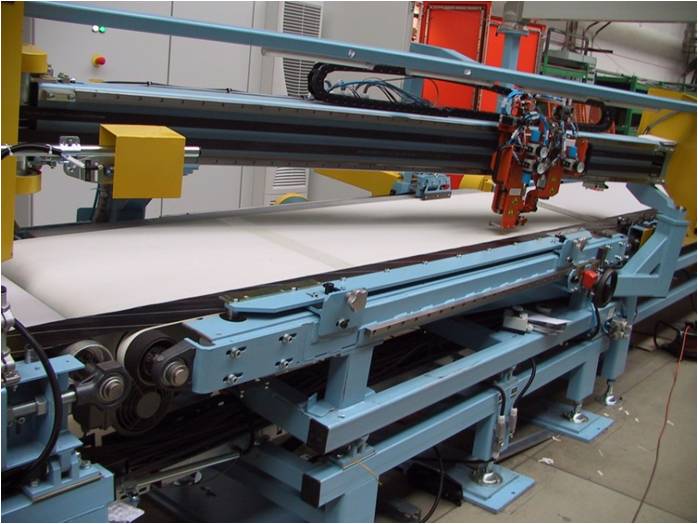 Longitudinal slitting device
¡± Ceramic coating of cutting disk
¡± New design of disk fixing
¡± Unified design elements

Wind up station
WIND UP TO COILS OR CASSETTES
¡± BREAKER WIDTH UP TO 650 MM (UP TO 1000 MM UPON REQUEST)
¡± BODY PLY WIDTH UP TO 1350 MM (UP TO 4000 MM UPON REQUEST)
¡± AUTOMATIC COIL / CASSETTE FINISHING (CROSS CUT)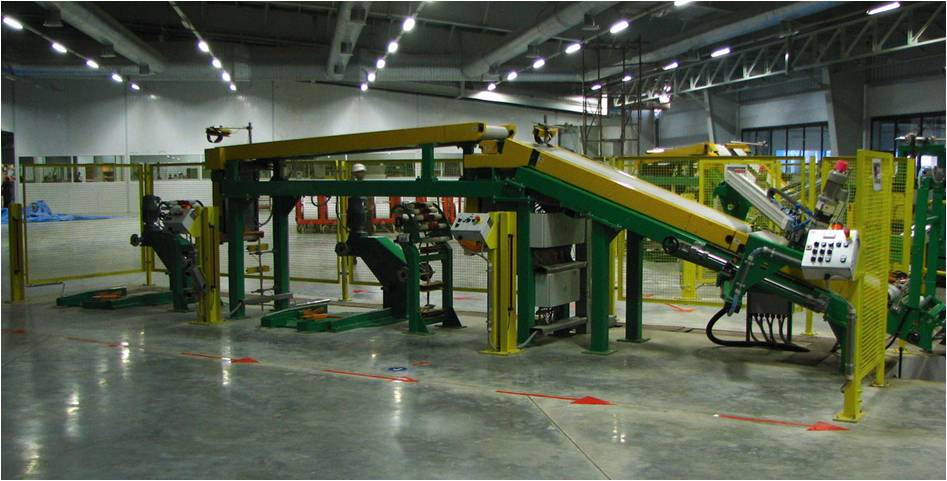 EXTRUSION LINES
SIMPLEX, DUPLEX, TRIPLEX, QUADROPLEX
- TREAD EXTRUSION
- SIDEWALL EXTRUSION
- APEX EXTRUSION
FEATURES
- Various applications for PC, LT, TB, OTR types
- Flexible design with regards to available space
- Technological advisory during design phase of project
- Technological advisory & training during commissioning at site
- Design of screws & extrusion machines based on testing of compounds in our R & D center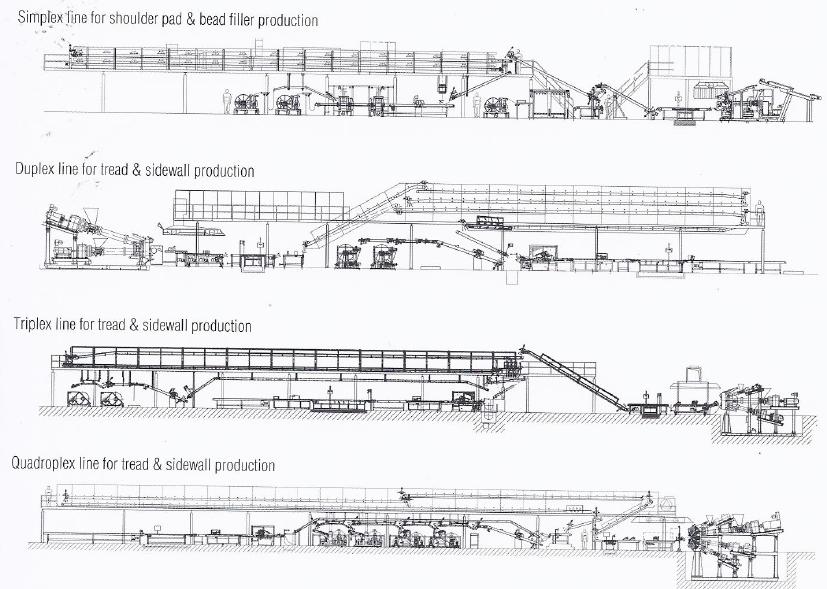 EXTRUSION LINES
ROLLER-HEAD INNER LINER EXTRUSION LINES
BASIC COMPOSITION
- Feeding converyor
- Contact wind up device (option on request)
- Doubling dcvicc (option on request)
- Extrusion aggregate with calender
- Let off station (option on request)
- Wind up station
- Cooling device
SINGLE ROLLER HEAD LINE EQUIPPED WITH COLD-DOUBLING SYSTEM
- For production of inner-liner profile for TBR
- Available doubling of squeegee (doubling after cooling)

DOUBLE ROLLER HEAD LINE WITH HOT-DOUBLING SYSTEM
- For production of inner-liner profile for PCR
- Available doubling of squeegee and/or strips (hot doubling before cooling)

SPIRAL DRUM COOLING DEVICE

FEATURES
- Space saving
- Easy transport & installation: small dimension, no frame anchoring, minimum installation time.
- Easy operation: simple material feeding at full speed, minimal profile deformation, no backward bending.
- Energy saving: 1 ¡V 1.5 kW installed power, use of ambient air only, higher efficiency of equipment.
- Easy maintenance: no platform, no greasing, no setting of adjusting, minimum No¡¦s of parts.