1. TST- TriScan Tire:

Universal 2D Contour & 3D Mapping Measurement System for tires & rims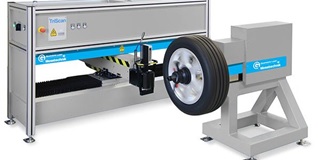 The TriScan Tire combines important functions in one device. It is developed for 3D tread wearing analysis, profile measurements and capturing a complete 2D cross-section profile with dimensions of distance, thickness, angle and radius for passenger and truck tires. Our system uses strong and precise mechanical components together with high-precision laser sensors to measure the tire. The system allows 2D measurements of bead-to-bead with sidewall analysis, lateral and radial run-out, heel & toe measurements, tread wear measurements and surface frequency evaluations.


The 3D mapping function gives a worn tire analysis and predicts the lifetime of a tire by continuously measuring and comparing the decreasing profile depth. With only a few measurements at different mileages it calculates the estimations. Automotive manufacturers, tire development and test centers such as BMW, Goodyear and ADAC use the TriScan Tire for product classification and development as well as quality assurance and final inspections.
2D contour- & track specific circumferencial measurement

Tire cross-section measurement (bead to bead)
Rim measurement
Profile overlay of multiple contours
Design Studies
Track specific circumferential measurements & frequency analysis
Lateral? & radial analysis
3D Tread Measurement
Color scaled 3D profile height (map)
Measurement of the entire tread / sidewall
Dimensioning functions (profile depth, tread thickness)
Analysis of irregular wear
Comparison of different tire types
Vehicle specific tire abrasion analysis and wear studies
Lifetime estimation and mileage studies
2. CTS-Car Tire Scan
Universal 3D Mapping Measuring System for tires on the vehicle
The CarTireScan system offers a fast relative measurement method without removing the tires from the vehicle. The complete system is conceived as a roller test stand with laser sheet-of-light sensors where the vehicle can drive on to for measurements. With the identical functions of the TriScan Tire measuring system for profile evaluation and wear analysis, the CTS is an effective and ergonomic alternative. The results of the 360¢X 3D tread analysis (maps) are even compatible with the TST user interface.

The concept of the CTS system allows a measurement of both tires on an axis one after the other in the same measuring process. The sensor system is automatically moved to the other side of the vehicle by linear guidance. A special focus is on the short measuring time of less than 10 seconds per wheel, which makes the system interesting not only for workshops and test centers. Tire manufacturers also appreciate the time saving and measurement after each test ride. In addition, the system can also be integrated as a single test stand for unmounted tires for final inspection in production lines.
3D tread measurement
Color scaled 3D profile height (Map)
Measurement of the entire tread
Visualization of the tracks to be compared for wear analysis
Zoom functions (Area / Scaling)
Dimensioning functions (Profile depth, tread thickness)
Mapping analysis functions (Surface deviation)
Analysis of irregular wear
Comparison of different tire types
Profile depth evaluation (on surface/ axis)
Vehicle specific tire abrasion analysis and wear studies
Lifetime estimation and mileage studies
Heel & toe analysis according to adjustable parameters
3. SmS- Smart Scan:
Portable laer-assisted 2D Profilometer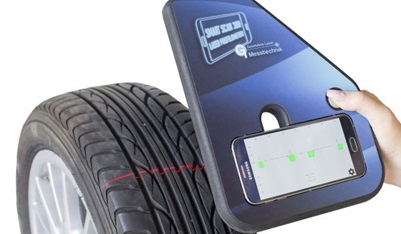 The Smart Scan offers an? innovative solution to measure tires, rims, gaps and any other surface geometry using a Smartphone. It is not only small and practical but also fast and very accurate. The battery-powered SmartScan makes contactless measurements from 300 mm width to 150 mm thickness. Distances, radii, angles and height differences of the recorded profile cross-section can be represented. In this way, over 10,000 profiles can be stored. A very significant function of the software is the macro capability, which can be compiled by each customer himself and individually. From the list of system functions different task fields can be selected and merged into one macro. At the end, the customer has several highly personalized macros to choose from. Such a macro package could include, for example, the profile recordings of all four tires with user information and additional camera shots of the tires, the mileage and licence plate with saving, print and send functions. The SmartScan can be used in the tire industry but also in the pharmaceutical industry, the paper industry, the food industry, archaeology and many more.

The concept of the Smart Scans allows profile measurements to be recorded as quickly and exactly as possible at any location, processed directly, or transferred to a computer for further processing via network, WIFI or Bluetooth. Compact dimensions and a low weight were chosen for the system to measure even hard-to-reach surfaces. It can be held with one hand and allows easy operation with high-precision results.

SmartScan App Software
?
Cross-section measurement of profiles (2D Cuts)
Profile snap-shot
Envelope curve calculation
Zoom and dimensioning functions
Width and height between two defined points
Angle measurement of four defined points on the measuring surface
Radius measurement of three defined points on the measuring surface
Automatic evaluation of profile depth of tires
Adjustable parameters for calculation functions
Wireless data transfer via WIFI / Bluetooth to the TriScan Software
(TriScan Software and Offline license separately available)
4. HDP-High definition profiler:

Linear 3D Profile Scanner
GL Measurements will shortly be producing another mobile system for measuring tire profile segments. The HDP 450 has been specially developed for the measurement of tire profile segments and measures a lateral profile strip of 100 mm width by means of a line laser using the sheet-of light measurement method. The system is placed directly under the car in front of the tire. The measurement is carried out in a few seconds and takes up a high-resolution profile segment. It measures a 10 cm wide strip across the entire width of the tire. The system fits under every car and truck and therefore has a large area of application, such as car garages, forwarders, fleet companies, bus companies, police and many more. The measuring system records the profile depth and displays these in false colors. In addition, the shape of the worn tires is monitored and evaluated, and the track error, wheel alignment error and the crown radius of the tire are measured.

Scope of application

Vehicle acceptance for car garages
Cyclic controls for forwarders, fleets and bus companies
Profile controls in transport
Customs at border traffic for trucks
Tread wear measurement endurance test for tire manufacturers, test tracks and institutions
Tire profile measurements for official technical car inspections
Software Features

3D tire profile measurement
Contactless profile depth measurement
Report for 2-18 tires per vehicle
Tolerance color display