--Interview with Mr. Hsieh, Vice General Manager of Smarding Shanghai
published in the Rubber World of China Magazine January 2006
<![if !vml]>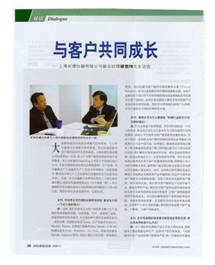 <![endif]> <![if !vml]>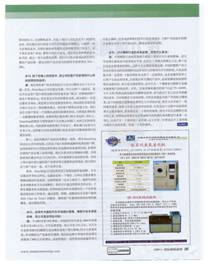 <![endif]>
Everyone knows that WalMart is the biggest retailer in the world; it was able to become the biggest one in the world because they devoted themselves to provide the lowest price for the buyer, but offered high quality goods and good service. Smarding Shanghai also follows this idea. Smarding Shanghai is a German-owned sales agency and technology consulting company for the rubber processing industry. (Such as rubber compound, mould design, improvement and introduction of latest R&D and laboratory technology and so on.)
A few days ago, Mr. Shang Dian Wang, general editor of Rubber World had an interview with Mr. Hsieh, Vice General Manager of Smarding Shanghai. We discussed about the condition of the market development for technical rubber products and the idea of leading this business. We believe there are some interesting aspects for our readers.
Rubber World: As we know, you sell a lot of equipment. Could you kindly give a brief introduction?
Mr. Hsieh: Yes, we offer lots of different kinds of equipment for the whole process of production. This includes compounding, production, refinement, quality control and laboratory equipment, etc. The production equipment is from Rubicon, Maplan and Ratera. For refinement there are Max Mueller and ORM. For the inspection there are DOSS, Romidot and Dr.Noll. For laboratory equipment we have Bareiss and Argentox. Smarding is not only an agent, but also a service center to provide ¡§total solutions¡¨ for our customers. Due to the development of the companies in China and their overseas customers, there is a higher demand for quality equipment and production and business management improvement. We can be their bridge to connect them with international business. As you can see, our equipment is a complete solution for our customers. It is based on our experience in the rubber field. These companies have lots of customers and have a great experience using our machines. We are able to arrange our customers to visit the manufacturer and their end user, and to provide an advanced technology project.
Rubber World: The purchasing of WalMart is by cash transactions. What kind of transactions do you use?
Mr. Hsieh: As most of our products are large-sized, we always produce the machine after the order. In this way, our suppliers can produce exactly the product which our customers need on the one side and on the other hand side, they can avoid the problem of stock inventory. In fact, we do not have a stock for our machines because we perform the Lean Excellence Production System as like Toyota; eliminating any unnecessary cost or the cost of inventory which will be counted in the total price. In such kind of situation, customers and we could not get any advantage.
¡@
Rubber World: Which other advantages do your customers have besides the price benefit?
Mr. Hsieh: The benefits that our customers can get are as follows: Firstly, Smarding Company is growing up steadily with our customers. We do not let our customers pay a lot of money and after that leave them like an ¡§orphan¡¨ which may affect our clients¡¦ productivity and competitiveness. I can give an example: Argentox Company is famous for producing ozone test cabinets. Originally, they cooperated with another agent, but that agent only took responsibility for the sales, and did not offer any technical service. Therefore, the customers could not receive any after-sales service. After that, Argentox Company was seeking our cooperation. Firstly, we talked about ¡§service¡¨; this is what I want to talk about in the second point: The great attitude of service. I think the 21st century is the service century, which is why we pay high attention to enhance our service. Our method is that after we sold the machine, we offer the customer a maintenance contract which is extended automatically after one year. Of course, we will charge a little for the service to keep our operation. Actually, the service department and sales department are independent, including their financials. Once the sales department is closed, the service department can also provide service to customers. In this way we can avoid that the sales department affects the service quality.
Third, the qualities of our products are the best. Smarding is developing strongly in these years and we have very good sales channels and high quality customers. For this reason, we can use these kinds of resources to choose the best supplier. If there are any technical problems with the products, we will ask the manufacturer to solve them as soon as possible; Smarding requests their suppliers to guarantee for their Quality Assurance.
Finally, Smarding Company defines so called ¡§standard working processes¡¨ and keeps them as a document. In other words, our working procedure is step by step, from quotation to the end of the transportation. Even if one employee leaves a certain position in Smarding, his/her work duty can still continue based on the documented standard process. Selecting this kind of procedure also improves our work efficiency: we can provide a ¡§Just in time¡¨ service for our customers and ensure them being satisfied with this service.
¡@
Rubber World: Since your company sells a lot of different products, which product is the most popular?
Mr. Hsieh: Regarding the equipment we sell only international brands; almost every brand leads their market segment at the first or second position. Therefore, compared with the same product from other manufacturers, the sales quantity is considerable. For instance, the quantity of sold DOSS machines is more than 66% higher than the second ranged manufacturer. And Bareiss is the only supplier of hardness tester in the world admitted by PTB laboratory in Germany. Their value of test is almost like a world standard. Several thousands of machines have been sold; however, the same kind of product of the second ranged competitor does not even reach one thousand.
¡@
Rubber World: The growing of the automobile market has slowed down in the past two years, which has also affected the rubber industry. How do you face this kind of situation?
Mr. Hsieh: Compared with 50% growth rate in 2003, the growth rate of 2004 is about 14%. This year will be lower than the past years and we roughly estimated this year at about 12%. The rubber industry is indeed affected by the automobile industry, but the positive point is, as the agent of rubber processing equipment our business volume has still increased by 40%. It shows that orientating towards the high quality market is correct and it also proves that our ideal to provide cheap and fine commodities and to develop together with our customers is admitted by our customers.
¡@
Rubber World: What is your opinion about the development of the rubber industry¡¦s future?
Mr. Hsieh: The development of the rubber industry was indeed affected by the automobile industry. The growth has slowed down in these years after we experienced an extremely strong boom. Now, there should be a slower increase in the long term development. The rubber industry in China has changed from a Price market to Quality-Price market. When the product quality increases to a certain level, there is a higher demand for high end production equipment. This is the consequence of an extreme competition. Currently, those machines out of our sales portfolio of which the sales situation is the best, are the inspection machines. The quantity of sold machines is very high. We can see that the rubber industry pays more and more attention to the product quality. Moreover, there are more and more customers who are TS-16949 certified because when the prices are almost the same, the key point for customers is quality. Soon, some of the companies will be out of the market and afterwards there will be another competition where the quality will be the most important aspect. I consider this as a good phenomenon. This kind of phenomenon will further affect the whole machinery industry and become a virtuous circle.